WITH ECOZONO YOU CAN TREAT ALL ITEMS WHICH CANNOT BE WASHED IN WATER OR DRY-CLEANED
Ozone(O3), composed by three atoms of oxygen, is a gas existing in nature, which is produced by an electrical shock going through an area rich of molecolar oxygen. This gas is able to oxidate and destroy viruses, bacteria, mold, mites in a fast, economic and ecological way.
Brentareno has concentrated the major power of the Ozone in the sanitizing cabinet ECOZONO, the ideal solution for those who suffer of allergies and breathing problems because:- It eliminates molds, bacteria, viruses, mites etc
– It eliminates bad smells
– It sanitizes practically all materials
ECOZONO
can be used where sanitization is fundamental:
– Hotels and restaurants
– Nursing homes
– Hospitals
– Fitness Centers
– Laundries and self-service
ECOZONO dose not use neither water nor chemical solutions, it penetrates in treated items on a molecular level without damages.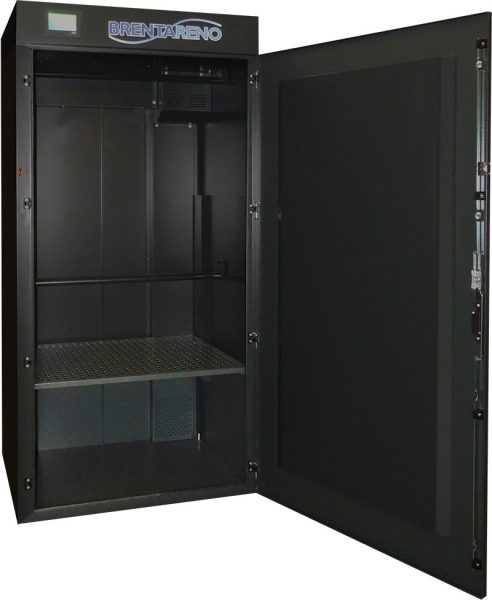 Technical data
Three working programs of different intensities: soft, medium, strong
Safety door lock
Cycle counting
Operating possibilities: coin, central pay, free use
Display showing machine status
Adjustable shelf
No use of active carbon
Safety mechanism according to CE regulations
| | |
| --- | --- |
| Measures | L 31,5″ x W 23,80″ x H 72,4″ |
| Voltage | 230 V – 50/60 Hz |
| Ozone generating lamp | 70 W |
| 03 production | 2,50 g/h |
| Ozone eliminator UVC lamp | 70 W |
| Blowing motor power | 73 W |
| Total consumption | 143 W |
| Regulations | In compliance with CE regulations |
ELIMINATES MITES-VIRUSES-BACTERIA-MOLDS
REMOVES ODORS AND SANITIZES ALL MATERIALS