AN ECOLOGICAL REVOLUTION FOR A MORE SUSTAINABLE WORLD
BRENTARENO TECHNOLOGY HAS DEVELOPED A NEW, POWERFUL TOOL WHICH MINIMIZES THE DRYING TIME AND ALLOWS TO SAVE MORE THAN 56% ON ENERGY CONSUMPTION. BECAUSE INVESTING IN QUALITY ED EFFICIENCY MEANS INVESTING IN THE FUTURE.
This advanced system guarantees an extremely high reduction of energy costs, due to ghe fact that it utilizes only 6 kw of resistance. Once the desired temperature has been reached total absorption will be inferior to 3 kw total, with numerous advantages in terms of cost reduction, due to the exclusive prodution characteristic of hot water up to 60°.
A BID FOR THE FUTURE
The new range of BRENTARENO ECOLOGICAL CLOSED CHAMBER dryers is a good example of the company's committment towards the global environmental awareness. In this sense BRENTARENO heads a project that protects the environment and makes the user of our products directly involved in a responsible use of energy, avoiding unnecessary consumption and waste.
Knowing that dryers are one of the most energy-consuming machines in today's laundries, BRENTARENO has created the ECOLOGICAL CLOSED CHAMBER range with the most efficient drying systems in the market. This range will not only help care for the environment, but also reduce your costs up to 56%.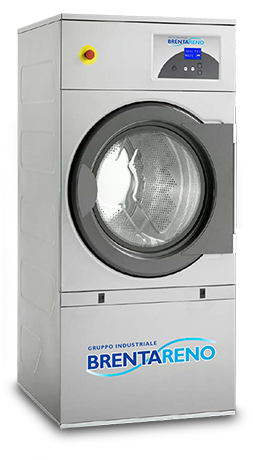 More than 56% savings compared with traditional dryers
Technical features
– Very low power consumption
– Hot water production up to 60°
– No masonry request
– Quick-drying
– Less energy is required
– Ecological and economic = friend of nature
– Standard Stainless steel drum.
– Frequency inverter as standard that controls rotating speed and reverse drum
action in all models and ranges
– New system of Double Flow: mixes radial and axial senses to improve
efficiency in drying.
– Skin Plate look stainless steel outer body, improved robustness
– Cool down at the end of the cycle to avoid creasing
– New door with big opening to 180º, allows to change the opening sense at any point (DRY 11,18,27 and 36)
– Direct drive by gear motor in machines up to DRY 27 for easy maintenance and low noise levels
– Air circuit and body with improved insulation features for greater energy saving
– Easy-cleaning and easy-access screen filter with optimum air-flow
CLOSED CHAMBER
Model
Control
Heating
Capacity kg
Production
Power kW.
Volt
Dimensions mm
(1:18)
(1:20)
Kg/h
heating power
installed electrical power
L
P
A
ECO DRY-11 C.C. ECOLOGICO
ELECTRONIC
Electric
12
11
23-29
6,00
8,93
T
785
1550
1700
ECO DRY-18 C.C. ECOLOGICO
ELECTRONIC
Electric
18
17
35-42
6,00
8,93
T
785
1800
1700
ECO DRY-27 C.C. ECOLOGICO
ELECTRONIC
Electric
29
26
55-60
6,00
12,42
T
890
2020
1812
COMPARING OPERATING COSTS